A few days back a website aahc.org.in had circulated the Recruitment advertisement notification for the 1600 Posts. The 1600 posts of District Officer, MIS Officer, District Manager, Area manager, and District head were to be filled up in 4 States of India. The posts were being distributed in Bihar, Madhya Pradesh, Uttar Pradesh and Rajasthan.
Now it seems that the AAHC Recruitment is fake and the website itself is a fake one. The website is claimed to be associated with Agriculture and Animal Husbandry corporation of India. But in reality, Animal Husbandry is not associated with the Agriculture department as it is associated with Dairy and fisheries departments.
It is advised to the citizens of the 4 states to not to apply for the Posts at aahc.org.in. The website and the Recruitment both are fake and you will lose your money if you do so.
AAHC Recruitment Fake Website & Fake Advertisement Proof
For website
The website is created in the just month of June 2017.
The website shows a traffic counter of 12 lakh visitors in just 2 months which is almost impossible for a new government website.
There is no official Agriculture and Animal Husbandry corporation in India under Government of India.
The domain is registered at GoDaddy with a fake email address and mobile number.
For Recruitment
The claimed to fill up 1600 posts which are really a big number. How can any government department fill up these vacancies without any Written exam or Scrutiny Test? They also claimed to release a selection list based on the academic records. Also, none of the government departments charge 700 Rs for an application form.
Please stay aware of such events and fake recruitments.
Proof Number 1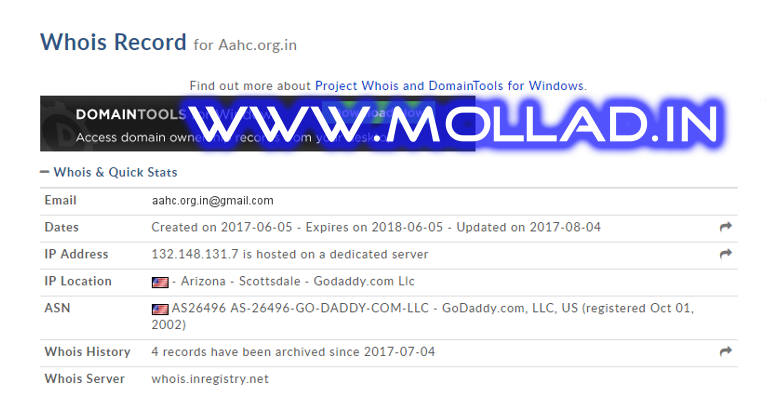 Proof 2
Proof 3
AAHC Fake Recruitment Do Not apply
कुछ दिन पहले AAHC department के नाम से एक भर्ती विज्ञापन जारी किया गया| जांच पड़ताल के बाद यह पता चला है की यह भर्ती और वेबसाइट दोनों ही जाली हैं तथा भारत सरकार के किसी भी विभाग से संभंधित नहीं है|
जिस कृषि व् पशुधन विभाग का सन्दर्भ दिया गया है वह विभाग भारत में है नहीं| पशुधन डेरी व मत्स्य पालन विभाग कृषि विभाग से अलग है|
आगे की पड़ताल में यह भी पाया गया है की वेबसाइट भी नकली है और इसे सिर्फ 2 महीने पहले ही बनाया गया है| इन सभी राज्यों के निवासियों से निवेदन है की वो इस झांसे में न आयें व ज्यादा से ज्यादा इस खबर को अपने साथियों तक पहुंचाए |