As the Punjab Government has announced the Re-examination of the DLG Punjab PMIDC Municipal Recruitment, The syllabus has been released for all posts.
The re-exam will be held for
Junior Engineer (Civil)/ Junior Engineer (O&M) Civil/ (Post Code No. 06, 07, 20, 25 & 28)
Assistant Corporation Engineer (Civil), Assistant Municipal Engineer (Civil), Sub Divisional Engineer (Civil), (Post Code No. 01, 17 & 27)
Senior Assistant/ Inspector (Post Code No. 09 & 22)
Here we are providing the Syllabus for all posts in pdf file. You can read the syllabus here. To download and take print in PDF, please use the links available below.
Syllabus for PMIDC Senior Assistant Inspector

LANGUAGE PROFICIENCY (ENGLISH 05 Q, PUNJABI 05 Q)
i. General English up to 10th standard
ii. General Punjabi up to 10th standard
GENERAL KNOWLEDGE / AWARENESS (NATIONAL AND INTERNATIONAL) (15 Q): General information about the state of Punjab, Economy, Science and Technology, Current Events, History, Geography, Political Awareness/Polity, Persons in News, Places in News, Important Awards & Honours, Sports.
MENTAL ABILITY / APTITUDE/ NUMERICAL ABILITY (15 Q) Reasoning Ability: Analogy / Analogous Problems, Classification, Word formation, Ranking / Arrangement, Series, Coding & Decoding, Distance and Direction, Symbol & Notation, Scheduled Day or Date, problem based on Ages and Calendar, Data Interpretation. Numbers, Simplification, HCF & LCM, Percentage, Average, Ratio & Proportion, Profit & Loss, Partnership, Time and Work, Time and Distance, Area and Volumes, Trigonometry, Probability, Permutations & Combinations.
COMPUTER AWARENESS (10 Q): Introduction of Computer and History, Operating Systems, PC and System Software, Computer Network, Computer Devices, Windows, Microsoft Office, MS Word, MS Excel, MS PowerPoint, Internet Programming Language (HTML/DHTML), Security Aspects for PC, Various uses of Computers.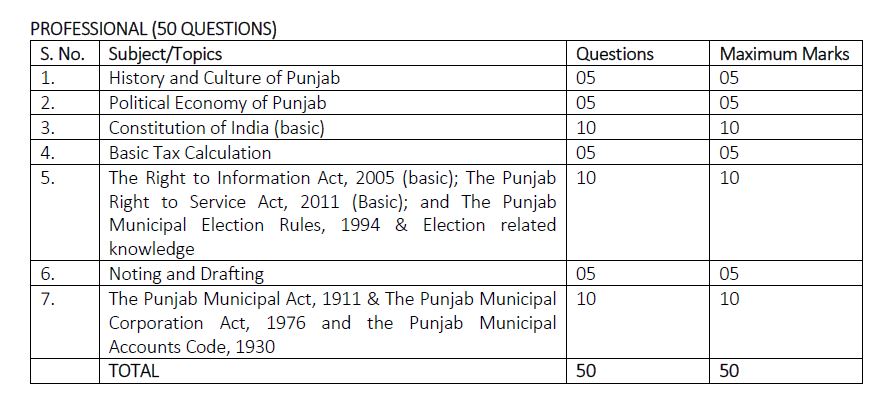 Download Syllabus pdf for Senior Assistant/ Inspector