www.ahara.kar.nic.in | www.ahara.kar.nic.in Status | Karnataka Ahara Food Department | Ahara Ration Card Status | Ahara LPG www.ahara.kar.nic.in
The Karnataka Government has dedicated online services for Karnataka Food Department. The name for this service has been given Karnataka Ahara and website being operated for e-Services is www.ahara.kar.nic.in.
Karnataka has always been struggling with lack of personnel in government departments and this impacts the efficiency of services especially in Food Departments. The Food department requires to maintain a lot of data about Distributions, Consumers, and much more. To overcome such problems in the Karnataka Food Department, the government has opened the Ahara Portal (Kar Ahara).
We are listing what e-Services are being provided by Kar Ahara Portal. Basically, the Food Department provides services like maintaining and providing Ration Card, Updation in Ration Card, Food Distribution, Food Security Cards Data maintenance.
To keep getting those facilities and services, the consumers do need to register with the department. Sometimes, the consumer has to visit several times to such office due to lack of documentation or any other reasons. To avoid such issues, the Kar Ahara Portal provides all services at one place.
List of ahara.kar.nic.in Karnataka Ahara Online services
e-Ration Card
e-Status
e-fair Price Shop
Documents and Distribution Stats
LPG
e-Ration Card: Ration Card is the most basic document to have by a citizen of Karnataka. The National Food Security Act provides the fundamental right to have a Ration Card in India. To obtain Ration Card in Karnataka, one doesn't need to roam here and there every time. If you hold the eligibility for the APL Card, you can simply apply online for Karnataka Ration Card.
In Karnataka e-Ration Card section, you have several options to choose from.  This section had 10 various services available for the citizens. The main service is the new application for the Ration Card and Status of the Ration card Application.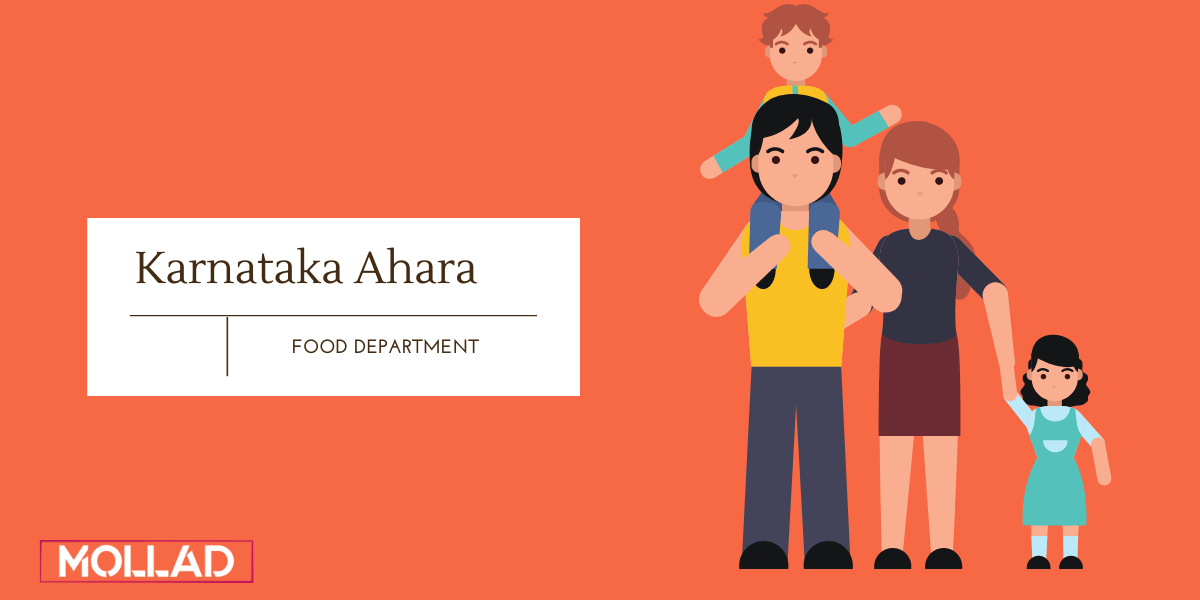 How to apply for New Ration Card APL at ahara.kar.nic.in?
Application for the New Ration Card is quite is at Karnataka Ahara Portal. You just need to visit the official website of the department. But before applying, you should make sure to have a Biometric machine attached to the computer. If you don't have the machine then please pay a visit to the nearest Photo Bio Center for the Biometric verification with the Adhar Card. Following are the steps to apply for New Ration Card.
First of all, open the official website ahara.kar.nic.in.
Then . the e-Services option on the top menu.
Then, in e-Ration card, . New Ration Card (APL).
on Next Stage, it will ask for the Card Type (Priority Household or non-Priority Household).
After that option, the application form will ask for the confirmation.
In Next phase, Add your Aadhaar Number and Mobile Number.
Then in Application Form, Add all member details and do Bio Verification.
How to Check New RC Request Status Ahara Status at ahara.kar.nic.in?
To those citizens who have applied for the New Ration Card, there is a service to check their New Ration Card Request Status. But candidates should make sure of submitting the application within 7 days after applying online.
Those who have submitted the application successfully can check their application status online. When you submit the application for new Ration Card application, the department provides you with the RC Number (Ration card Number). To check your application status, just . the e-Services Section and then e-Status. Now enter your RC number and check the status of your New Ration Card application at Karnataka Ahar Service.
How to Check Karnataka Ahara FPS Allotment and Taluk List?
The FPS allotment is the total food and kerosene distributed at the concerned  Fair Price Shop Depot. Every village has one or more FPS Depots accordingly.
If you want to know how much quantity of the commodities is being distributed to the depot holder of your area. You just need to follow the simplest of the steps.
First of all, visit the official website of Ahara Portal.
Then, select e-Services detail.
In e-Services, choose e-Fair Price Shop.
Then select the third option of FPS Allotment.
On Next page, you have to select your District, Taluka, and FP Shop.
You can see all the data of distribution month-wise on that page.
In Ahara Portal of Karnataka, there many other e-Services available which can be beneficial to you. Thus, you must use the online services being provided by the Government and take proper benefits.